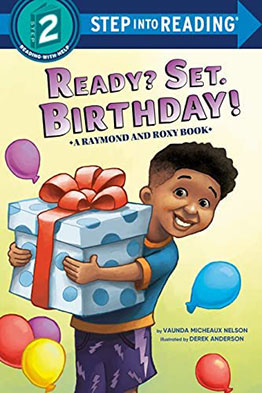 Ready? Set. Birthday!
Illustrations by Derek Anderson
Random House, 2022
Raymond likes to do everything fast.  His birthday is near, but it can't come fast enough for Raymond.  He can't wait.  He and his friend Roxy help "make time fly" and celebrate his special day together, too.  This sequel to Ready? Set. Raymond! (which marks its 20th Anniversary in 2022!) will delight fans and new readers alike.
2022 Chicago Public Library Best of the Best, Fiction for Young Readers
Reviewed in School Library Journal:  ". . . This early reader, with playful, colorful illustrations that support a fun story about a child's big day, will appeal to any child who has ever waited eagerly for a birthday to come. A first purchase for all early reader collections."

Available at
Amazon
Barnes & Noble
Bookshop (local booksellers)
Your public library