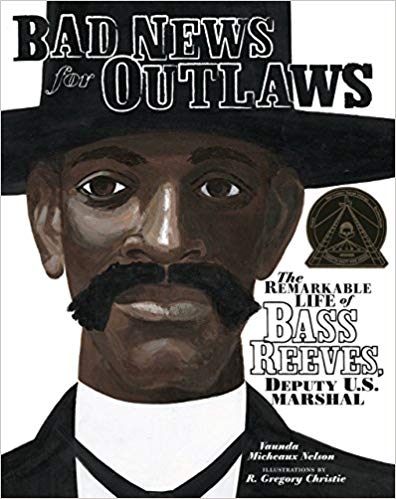 Bad News for Outlaws
The Remarkable Life of Bass Reeves, Deputy U. S. Marshal

Illustrations by R. Gregory Christie
Carolrhoda Books, 2009
Sitting tall in the saddle, with a wide-brimmed black hat and twin Colt pistols on his belt, Bass Reeves seemed larger than life. As a deputy U.S. Marshal—and former slave who escaped to freedom in Indian Territory—Bass was cunning, fearless, and honorable. When a lawbreaker heard Bass Reeves had his warrant, he knew it was the end of the trail, because Bass always got his man. He achieved all this in spite of whites who didn't like the notion of a black lawman. For three decades, Bass was the most feared and respected lawman in the Territory. He made more than 3,000 arrests, and though he was a crack shot and a quick draw, he preferred not to use deadly force and only killed fourteen men in the line of duty. Bad News for Outlaws reveals the story of a remarkable African American hero of the Old West.
2010 Coretta Scott King Author Award
2010 Simon Weisenthal "Once Upon a World" Children's Book Award
Carter G. Woodson Honor Book
2010 Western Writers of America Spur Finalist
2011 Anne Izard Storyteller's Choice Award
2010 New Mexico-Arizona Book Award for "Children's Picture Book"
A Washington Post and Kirkus Reviews Best Book of the Year
Starred reviews in The Horn Book Magazine, Kirkus Reviews, Publishers Weekly, and School Library Journal