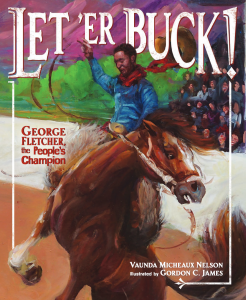 If you've followed my work, you know Let 'er Buck! George Fletcher, the People's Champion, published in 2019.  Through George's story, I learned about the Pendleton Round-Up, a world famous rodeo held annually the second week of September for more than a hundred years.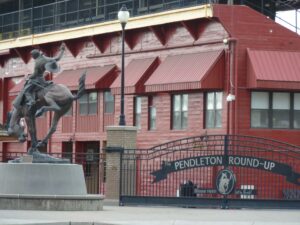 Each year the Pendleton Round-Up and Happy Canyon Hall of Fame membership selects four individuals (Contestant category, Happy Canyon Volunteer category, Round-Up Volunteer category, and Animal category) for induction.  I regret that other commitments prevent me from attending because my good friend, Virginia Roberts, is being recognized in the Round-Up Volunteer category.
Since I can't be there to cheer Virginia on, I want to use this month's post to sing her praises.  I can say without hesitation she is more than deserving of this award.
Many of my books require a great deal of research, which I love doing, but often find challenging.  I have learned how invaluable finding an expert can be.  Someone who knows and cares about my subject.  Someone who is as passionate about the detective work as I am.  Someone who wants to help put these stories out into the world.  With Bad News for Outlaws, it was historian Art T. Burton.  With Almost to Freedom, I reached out to Ashley Bryan.  With my upcoming Small Shoes, Great Strides, it was the subjects themselves.
I am grateful to have found Virginia Roberts.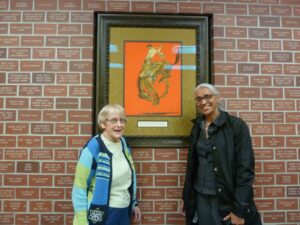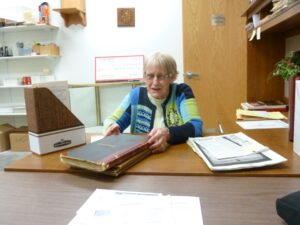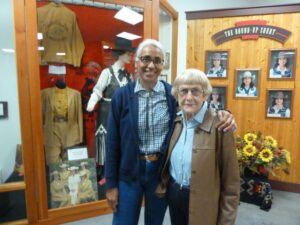 When I made initial contacts in Pendleton in 2017, every conversation included "You should talk to Virginia."  They were right.  She is the go-to person for anyone digging into Pendleton history.
When I spoke with Virginia, she was kind, enthusiastic and beyond helpful.  She fed my excitement about the project, and I hit the trail to Pendleton with friend and former library colleague Lori Snyder.  Virginia (in her mid-eighties at the time) gave support and guidance, introducing me to all the right people at the library, the local historical society, the Hall of Fame museum and archives, the local newspaper and the Umatilla Indian Reservation.
After I returned home, Virginia continued to be my personal historian through phone calls and email messages.  When Let 'er Buck! came out, I returned to Pendleton to attend the Round-Up, to speak, and to sign books.  Virginia invited me to stay in her home, navigated my entire schedule, and chauffeured me throughout my stay.  I owe her much and am overjoyed she is being honored.
Virginia has dedicated nearly 30 years to volunteering for the Pendleton Round-Up and Happy Canyon Hall of Fame as historian and archive expert.  She also has served at the Umatilla County Historical Society Heritage Station Museum, the Pendleton Public Library and has helped community members explore family genealogy and city history.  Part of her historical work involves the local Olney Cemetery where she assists with tracing family heritage.  Now in her early 90s, Virginia is still going strong.  She is a powerhouse, a gem, and a true kindred spirit.  I am proud to call her my friend.
Congratulations, Pard.  LET 'ER BUCK!
_________________
For more information about the Pendleton Round-Up and the Hall of Fame inductees:  https://www.pendletonroundup.com/p/round-up/halloffameinductees