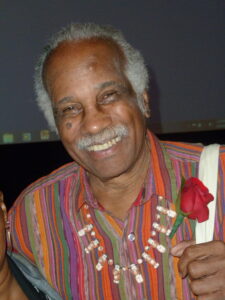 American Library Association Conference 2012
"I have been painting outdoors in my neighbor's garden . . . dipping into the jars of acrylic color and touch touch touch till a composition is formed . . . quite unlike the standing-up energy of strokes that made my former garden paintings.  People have taken to the 'spun on air' feeling of the paintings and have asked for them.  However my neighbor is digging out the dahlias, so I'll now focus on indoor book projects."  — Ashley Bryan letter excerpt, October 2017
When I wrote last month about loss, I had no idea how soon I would be seeking comfort myself.  I had no idea how soon I would be needing "the assurance that we can recover from loss, and that loved ones who have passed on want us to recover and be better than before.  The departed want us to remember them, but more than that, to grow having known them."
On February 4th, our world lost one of its best human beings, Ashley Bryan — award winning author and illustrator, U.S. Army veteran and D-Day survivor, puppet maker, storyteller, orator, stained-glass maker, collector of cool toys and stuff, philanthropist, teacher, mentor.  He gifted us with more than 50 books and annually traveled to Kenya where he provided water wells, built a library, and worked to fill it with books for the children there.
Ashley was one of my dearest friends.  He was nearly 99 years old.  Still, I was blindsided by the news.  I received a letter from him not long before, and Ashley had the kind of energy and spirit that made me imagine he would be with us forever.  He came into my life more than 30 years ago and took me under his wide wing about the time my father died.  He filled that empty space for me.  Over the years, when I sometimes struggled with a loss of confidence, Ashley was always there, pushing me to challenge myself, keeping me marching forward . . . with hope.  He was the most positive person I've ever known — full of hope, peace, love, joy . . . always joy.
Sometimes we don't get a chance to tell the people we love how we feel before they are gone.  I am happy that, in 2017, I wrote and told Ashley what he meant to me.  He wrote back saying, "I am deeply touched that my presence in your life helped you through the time of loss of your father.  When we find something of ourselves and those we love in each other, the abundant and abounding Joy of God the Father enfolds our being . . . I offer this in Peace and Love.  Ashley."
I've grown having known you, Ashley, in ways that I am still realizing.  I will recover and be better than before. Thank you, my remarkable, unforgettable, irreplaceable friend.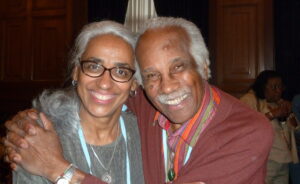 American Library Association Conference – 2015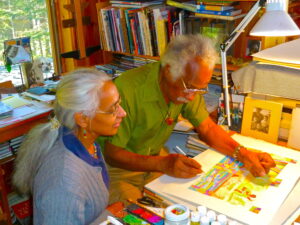 Ashley's Studio – Islesford, Maine – 2012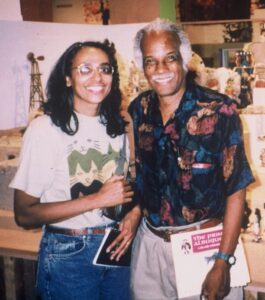 Museum of International Folk Art, Santa Fe, NM – 1997