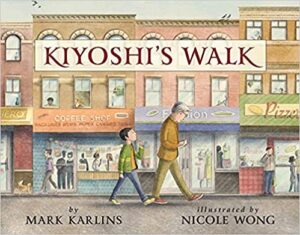 To follow up on last month's post, I want to celebrate a wonderful new book that offers its own kind of poetry break.  In Kiyoshi's Walk, by Mark Karlins (Lee and Low Books), young Kiyoshi's question, "Where do poems come from?" sparks a delightfully uncommon walk with his grandfather, "the wise poet Eto."  As they stroll through their city, Eto writes haiku that leads Kiyoshi to understand how poems can grow from seeing, listening, imagining, feeling.  Ultimately, Kiyoshi writes his own haiku for Eto:
In the cool spring night
the wind's dance makes me shiver.
Your voice keeps me warm.
The story unfolds as a lovely kind of poetry walk — a poetry writing break.  Karlins' tender tale is a beautiful way to introduce young readers to haiku.  Nicole Wong's soft, evocative art, in warm detail, comfortably draws readers into Kiyoski and Eto's world.  What lingers with me is the bond that exists and deepens between Kiyoshi and his grandfather through these sharing moments.  I can never resist a story revealing how literature can change lives and connect people as with me and my dad (see my April blogpost), or my great uncle Lewis Michaux and his son Lewis Jr. (The Book Itch), even Lewis and his bookstore customers (No Crystal Stair), and here with Kiyoshi and grandfather Eto.
So take a poetry break — read one, write one, share one with someone you love.