Most of us have experienced loss and have had to find our way through grief.  Often it is through death, but loss comes in many forms — a going away, a change or end to something that leaves us brokenhearted, longing for that which is no longer.  Books can help.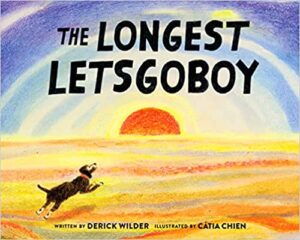 One of my favorites of 2021 is The Longest Letsgoboy by Derick Wilder, illustrated by Catia Chien.  Told from a dog's perspective, readers are plunged into a canine world through the vocabulary Wilder creates to give his protagonist voice — 'tweetertunes' for birds, 'fuzzhoppers' for rabbits, 'beautifuls' for butterflies, 'leglifting endlessly on tallsticks' for . . . use your imagination.  It feels so real, so yes-that's-exactly-how-a-dog-would-see-it that I almost forget I'm a human reading the story and not a dog myself.  Chien's soft, mixed-media art is perfect for this brilliant book.
The Longest Letsgoboy is tender, moving, heartbreaking, and uplifting.  It leaves us with the assurance that we can recover from loss, and that loved ones who have passed on want us to recover and be better than before.  The departed want us to remember them, but more than that, to grow having known them.  They want us to love again and be happy.  In so doing, we honor them.  Letsgoboy gives readers permission to seek and feel the levity that I have addressed in previous posts.
Here are some other lovely picture books about loss that speak to all ages:
RECENT TITLES:
The Bear and the Moon by Matthew Burgess, illustrated by Catia Chien
The Boy and the Gorilla by Jackie Azua Kramer, illustrated by Cindy Derby
I'll Be the Water: A Story of a Grandparent's Love by Alec Aspinwall, illustrated by Nicole Wong
Many Shapes of Clay: A Story of Healing by Kenesha Sneed
Mom's Sweater by Jayde Perkin
My Tree by Hope Lim, illustrated by Il Sung Na
Rabbit and the Motorbike by Kate Hoefler, illustrated by Sarah Jacoby
A Stopwatch from Grampa by Loretta Garbutt, illustrated by Carmen Mok
When Sadness Is at Your Door by Eva Eland
UNFORGETTABLE CLASSICS:
Badger's Parting Gifts by Susan Varley
Lifetimes: A Beautiful Way to Explain Death to Children by Bryan Mellonie, illustrated by Robert Ingpen
Nana Upstairs and Nana Downstairs by Tomie dePaolo
Saying Goodbye to Grandma by Jane Resh Thomas, illustrated by Marcia Sewall
The Tenth Good Thing about Barney by Judith Viorst, illustrated by Erik Blegvad