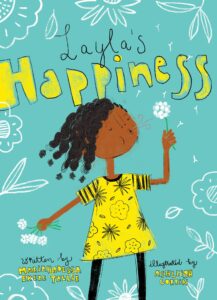 As part of my celebration of the 35th anniversary of the Ezra Jack Keats Award, I have been revisiting and beating the drum of past winners.  One of my favorites is Layla's Happiness which received the illustrator award in 2020. This uplifting book certainly fills the bill for my New Year's resolution to "accentuate the positive." Committee members loved Layla's Happiness so much we selected it both as the winner for Ashleigh Corrin's jubilant illustrations and as an honor book for Mariahadessa Ekere Tallie's lovely text.

From the moment Layla cartwheels into the book on the title page, this seven-year-old's joyful look at her life is infectious and nourishing.  For Layla, gladness lies in simple things — climbing a tree, wearing her favorite color, and reading with family. She finds it in planting a garden, watching it grow, and sharing her harvest with others. In dancing and friendship, in ladybugs and butterflies and, as she says, "when the sea reaches into her pocket and gives me a sand dollar."
Layla truly appreciates everything and everyone around her, seeing all that is good in her world.  Ultimately, she invites readers to think about what brings them joy and us to consider what we value most.
Layla's Happiness speaks to everyone by honoring the elemental beauty of being.