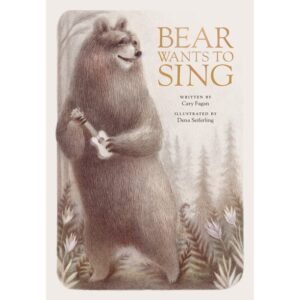 Kindness should be in our hearts always, but there is no better time than the Christmas season to give it some extra focus.
I recently discovered a delightful picture book that fits the bill — Bear Wants to Sing, written by Cary Fagan and illustrated by Dena Seiferling (Tundra Books, 2021).
The story begins with musical instruments being lost in the forest.  When Bear finds a ukulele, he's inspired to write his own song.  Bear is excited to share it with his friend Mouse, who is "all ears."  But Snake, Crow and Tortoise, who have also found instruments, one by one take the stage to perform their own songs.  Bear has to wait.  Finally he gets to sing.  The scene is hilarious and heartbreaking.  Bear's song is unsophisticated but sweetly genuine.  The animals' responses are polite but unenthusiastic.  His feelings hurt, Bear goes off on his own.  But Mouse follows his friend and saves the day.
"I like your song," Mouse says . . . "Because it's just like you."
This gentle story about good manners, friendship, kindness and appreciating who you are (even being able to laugh at yourself) is one in which we all can see ourselves.
Dena Seiferling's soft, expressive, graphite illustrations with delicate hints of color bring these appealing woodland creatures to life and draw readers into their forest world.
Families and friends gather during Christmas and often share parts of themselves that are deeply personal, parts that hold special meaning.  There is joy in expressing ourselves in the presence of those we love, even when we aren't perfect, when our "performance" falls flat.  Fagan's book fosters the kind of caring we assume, and have a right to assume, at these times — the kind of caring we should try to give, even to people we don't know.
Bear Wants to Sing brings to mind the tenderness that comes with love between friends so evident in Arnold Lobel's timeless Frog and Toad books.  Such stories, done well, never go out of style.
Merry Christmas.  God Bless Us, Every One.