Since Ashley Bryan went home to join the rest of the angels this year, I've been appreciating my great fortune in having known him and finding joy in remembering.  As I prepare to travel back to Islesford, Maine, to attend a celebration of his life on July 13th (what would have been his 99th birthday), I am thinking back to my last visit with Ashley in 2019 at his home in the village of Islesford on Little Cranberry Island.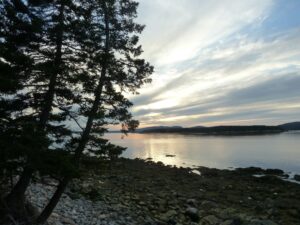 It was the off season and the island was quiet, locals being the only folks around.  Everything was closed — restaurant, Islesford Historical Museum, even the store.  Our social schedule consisted of coffee hour at the library and Sunday service.  I loved it.
Church was attended by 13 adults and seven children (including the minister and his family).  At one point, the pastor came down from the pulpit and picked up one of his toddlers who was wandering about.  He didn't discipline, just went on with his message, as though this was a weekly occurrence.  There was no tsking, no words of disapproval from the congregation.  It felt as natural a part of the morning as saying the Lord's Prayer or singing a hymn.
Ashley was his usual, sprightly self.  At nearly 96, he'd slowed a step but still kept me on my toes.
He kindly shared his lovely new book with me — Blooming Beneath the Sun, poems by Christina Rossetti he'd illustrated using his evocative, cut-paper technique.  Who but Ashley could create the feeling and motion of wind using this medium, one that can feel static.  Ashley also told me about his then upcoming fall 2020 title, the autobiographical Infinite Hope: A Black Artist's Journey from World War II to Peace.  He gave me a sneak peek at his cover art.  (Infinite Hope went on to win numerous awards.)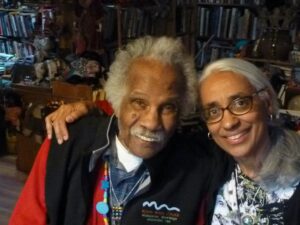 We talked and shared meals together.  And, although there was no store open on the island, there was enough in his pantry to enable me (with some improvisation) to bake an apple pie.  It was a small thing, but Ashley had done so much for me, it felt good to create something just for him (and his caregiver, Kathy Lake).
One afternoon, I found serene silence in Ashley's Storytelling Pavilion, a mini museum and meditation space displaying some of his creations — books, puppets, paintings, and his unique take on stained glass.  Time alone amidst such beauty and peace was marvelous.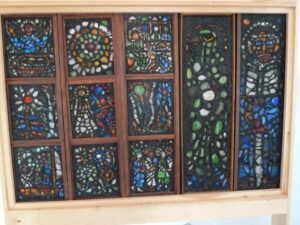 While on Little Cranberry I enjoyed walks to the shore, encountered seagulls, snails, a lone seal, a pair of delightful ducks, and admired lovely island homes.
When I boarded the ferry toward home, my heart felt light, my soul whole.  Ashley continues to encourage and push me forward in the work that sometimes scares and overwhelms me.  I am humbled and inspired by his example.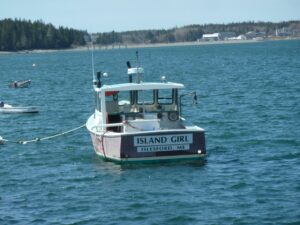 I'm a little saddened that my upcoming visit to Ashley's home may be my last.  But I look forward to gathering with his family and friends.  To being in the company of others who loved him.  To feeling Ashley's spirit and embrace in the place he lived and loved.