Covid concerns have kept many from gathering with family and friends for special celebrations.  Still, we've all found ways to express and share our joys.  Please do a little happy dance for Let 'er Buck! George Fletcher, the People's Champion which received a 2020 Will Rogers Medallion Award last month.  Neither Illustrator Gordon C. James nor I could attend the award ceremony, but the wonderful Will Rogers folks sent our beautiful and very cool medallions in the mail.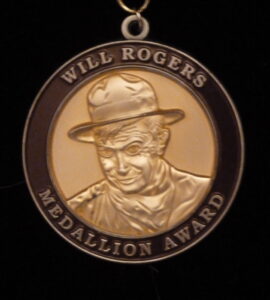 Let 'er Buck! won First Place in the Western Nonfiction: Young Readers/ Illustrated category. Charles Williams, executive director of the Will Rogers Medallion Award Committee, even said if there had been an overall category, it would have been a strong contender.  Yee! Haw!
The Will Rogers Medallion Award honors books that represent an "Outstanding Achievement in the publishing of Western Media" acknowledging works that honor the "Cowboy Heritage" and exemplify "excellent content and high production values."  I love that this award recognizes the collaborative effort (between authors, illustrators, editors, art directors, publishers and printers) required to create good books.  I surely am grateful for Gordon and my Lerner family in the production of this work, as well as my new friends in Pendleton, Oregon, for their help and support.
I'm much obliged to the Will Rogers Medallion Award Committee for this honor.  A complete list of winners can be found at: www.willrogersmedallionaward.net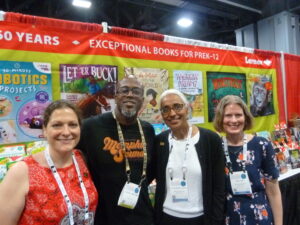 Art Director Danielle Carnito (left) and Editor Carol Hinz (right) with Gordon and me (2019)