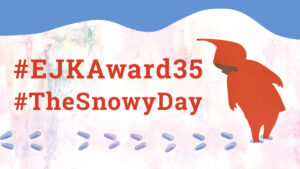 In these pandemic times, we need the joy and inspiration the children's book community brings to us.  The 35th Anniversary of the Ezra Jack Keats Award is certainly one reason to celebrate.  April 2021 marks the event, but it's not too early to start kicking up our heels.
The EJK Award recognizes children's authors and illustrators early in their careers, encouraging them to continue creating wonderful, diverse books.  The New Writer Award was established in 1985 and the New Illustrator Award in 2001.
The award is named for Ezra Jack Keats, author of the groundbreaking book The Snowy Day, winner of the 1963 Caldecott Medal.  Keats, a pioneer of diversity in children's literature, gave us over 20 marvelous books — books that made a difference. His spirit lives on through his work, through those who enjoy and share it, and through creators who capture it in their own ways.
Many past winners are now industry leaders — talented folks like Bryan Collier, Angela Johnson, Meg Medina, Faith Ringgold, Christian Robinson, Shadra Strickland, and Don Tate.  One way to applaud the 35th anniversary is to do some retro reading of the fabulous contributions of past winners.  To find a list and learn more about the EJK Foundation and anniversary activities visit ezra-jack-keats.org
The award is sponsored by The Ezra Jack Keats Foundation in partnership with the University of Southern Mississippi's de Grummond Children's Literature Collection, one of North America's leading research centers in the field.
I have had the privilege of serving on the Ezra Jack Keats Award Committee since 2019 and am proud to be part of a great tradition recognizing rising stars in the field. I am thrilled to also be serving on the 35th Anniversary Executive Committee. Many thanks to all who made this possible.  To have my name associated with this milestone is an true honor.