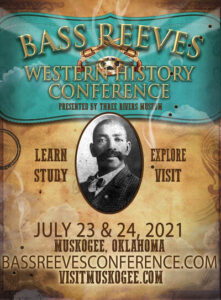 Yee! Haw!  Last weekend (July 23 & 24), I did my first in-person author event since before the lockdowns.      Boy howdy, it felt good to be back in the saddle.
I was honored to be the keynote speaker at the Bass Reeves Western History Conference in Muskogee, Oklahoma, one of Bass's old stomping grounds and the town where he spent his final years.  The Three Rivers Museum, housed in the restored historic Midland Valley Railroad Depot, sponsors the annual event.  This regional museum collects, preserves, researches, exhibits, and interprets the history and heritage of the Three Rivers area of Eastern Oklahoma which includes the counties of Muskogee, Wagoner, Cherokee, McIntosh, Okmulgee, Haskell, Southern Mayes and Western Sequoyah.  The conference spotlights the life of U.S. Deputy Marshal Bass Reeves, but also showcases the lives of the many heroes and outlaws of his time.
It was indeed a joy to mingle with a group of people so knowledgeable and passionate about Bass and to share my own love for my favorite deputy U.S. Marshal through my book BAD NEWS FOR OUTLAWS: The Remarkable Life of Bass Reeves, Deputy U.S. Marshal.  Serious and humorous reenactments of Bass's story and the history of the area were presented by "The Bass Reeves Posse" and "The Indian Territory Pistoliers."  These, combined with fun and informative tours, folks dressed in period clothing, good conversation about our history, and reconnecting with Bass expert and friend Art T. Burton kept me smiling.
A real bonus was the opportunity to share Bass's story with about 40 children at the Martin Luther King, Jr. Community Center.  The kids were inspired (and inspiring!) and everyone wanted a chance to be put in reproduction-old-west handcuffs.  What a time I had!
Many thanks to museum Director Angie Rush, as well as the staff and volunteers at the Three Rivers Museum and to all the good folks in Muskogee who made me feel as welcome as rain in a drought.  I am much obliged.
***
P.S.  Besides Bass Reeves and my new-found pards in Muskogee, I have another fond connection with Oklahoma. Cowboy and western humorist Will Rogers was born near Claremont, Oklahoma, in 1879, which was Indian Territory at the time.  My Let 'er Buck: George Fletcher, the People's Champion won the 2020 Will Rogers Medallion Award for Western Nonfiction-Young Readers/Illustrated.