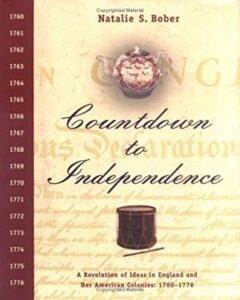 There are always wonderful new books for us to discover and love, but I hope the worthy, stand-out titles that came before are not allowed to languish or be withdrawn from library shelves.  I hope they are being recommended and passed—with enthusiasm and passion—between book lovers. A "keeper" in my personal library and one that has withstood the test of time is Countdown to Independence: A Revolution of Ideas in England and Her American Colonies, 1760-1776 by Natalie S. Bober (Atheneum, 2001).  It is especially appropriate as we celebrate Independence Day on July 4th.
Bober presents an objective, balanced and compelling picture of the key individuals and events that led to the Thirteen Colonies declaring independence from England.  In fine, cinematic detail Bober tells both sides of the story, taking readers inside the House of Commons to observe heated debates about British sovereignty, then across the Atlantic to witness colonists speaking passionately about liberty while carefully trying to sidestep the inevitable idea of independence. Engaging, yet scholarly, this book has everything—rich and colorful characters, suspense, humor, violence, intrigue, romance, tragedy.  It's history at its best.
Countdown to Independence is an impressive accomplishment—well-researched, organized and executed.  It is an important contribution to the literature of American (and British) history.
Happy Birthday to us!