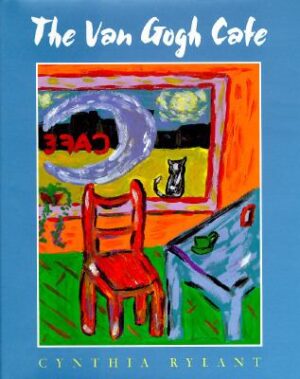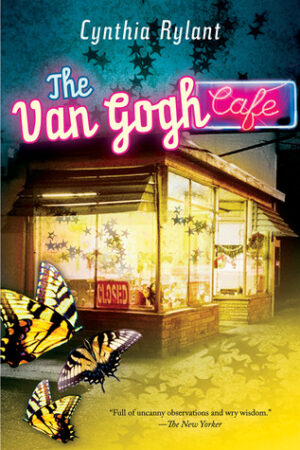 Regular readers of my blog know I've been focusing on the positive this year.  Although there are great new books to discover and love, I find myself revisiting titles that should not be forgotten.
One that never fails to fill me with hope is The Van Gogh Cafe by Cynthia Rylant, published in 1995.
There are times when we all need a little magic, a miracle perhaps.  Magic happens at the Van Gogh Cafe.  No one knows exactly why.  It could be because the cafe was once a theater.  Theater walls harbor magic, you know.
Ten-year-old Clara and her father Marc own this comfortable neighborhood restaurant in Flowers, Kansas.  One reason for the magic may be Clara.  She believes anything is possible.  When it comes to magic, believing matters a lot.  Whatever the reason, miracles, indeed, happen at the Van Gogh Cafe.
It always starts with a small story.  A possum hanging upside down in a tree right outside on main street.  A lightning strike.  Two tiny muffins given as a tip.  A silent picture movie star sitting at cafe table by the window.  A far-from-the-ocean seagull living on the roof.
When a small story begins, Clara knows something is about to happen — a bigger story, one in which things are "a little tipped, a little to one side."  Food cooks itself.  Poems tell the future.  Magic muffins multiply to just the number needed.
For those of us who love language and often reread just to appreciate the author's way with words, Rylant delivers — "Morning is the kindest time of day."  "Wind loves a flat land."  "Bless all dogs."
This is a marvelous chapter-a-night read aloud.  Rylant ends each episode with a hint of some wonder to come — rather like Howard Garis's fabulous Uncle Wiggily tales.
Feeling a little misdirected, out of sorts, less than optimistic?  This slim novel just might be the remedy.  Let yourself fall under the spell of this quietly powerful book.  Visit The Van Gogh Cafe and be reminded that magic exists and miracles happen.  Cynthia Rylant allows us to see and to believe.
As her narrator says, the Van Gogh Cafe "is wonderful, like a dream, like a mystery, like a painting, and you ought to go there . . . for you will never forget it.  You will want to stay, if you can."
*Cover art pictured above: from the hardcover (Harcourt Brace, 1995) and the paperback (Clarion, 2006)