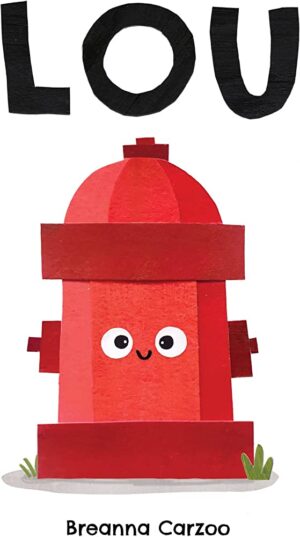 One of my favorite picture books of 2022 is Lou, written and illustrated by Breanna Carzoo.
Lou is a fire hydrant, a fire hydrant frequented by dogs.  "All day, every day, one by one they sniff and twirl and twist and lift and . . . well you know." 
Nothing new here, right?   Wrong.  Carzoo digs deeper.  She takes this simple everyday occurrence and creates a humorous (sometimes hilarious) and heartwarming story about self worth and promise.  Somehow, Lou senses deep down there is more to him than it first appears.  When disaster strikes, Lou discovers his true potential and saves the day.
Carzoo tells much of the story through bold, colorful, expressive cut paper Illustrations which convey a close-knit community of people and animals.  For readers who sometimes feel they are just a toilet in the bigger world, the story assures that each of us has a greater purpose than we might think, that there is greatness in us all.
A bonus is Carzoo's clever pun on the British slang "loo."  And I loved learning that, when in the fifth grade, the author won a fire-safety poster contest.
Lou may seem to be just another silly, gimmicky book that appeals to kids because of its bathroom humor.  But this unique book is sincere, triumphant and powerful.  Young readers may come away thinking, "There's more to Lou than he thought.  Maybe there's more to me, too."
Bravo, Breanna Carzoo!